JACK RUSSELL TERRIER
ARMONIA CANINA FCI KENNEL
The last available very well built male Gigi di Armonia Canina
with excellent body proportions, a slightly broken/smooth hair.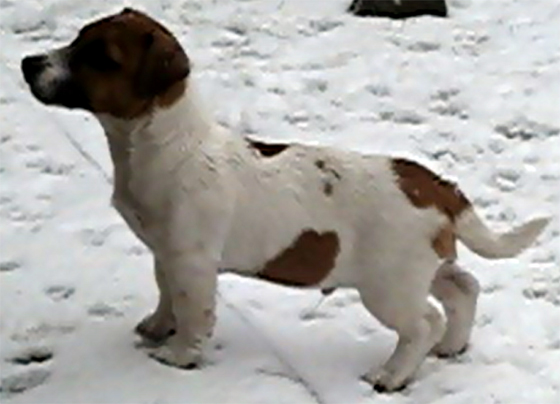 Welcome in the ARMONIA CANINA kennel's website - Stitary - Znojmo (Zneim) District - Czech Republic. The name is from Italian and it means "CANINE HARMONY". Originally it was meant as a harmonious life of the dogs in the pack and in the family but it is true that it can be applied also to the harmonious lines of these beautiful dogs Jack Russell Terrier.

We are a small kennel and we have a couple of dogs who live together in a pack, along with our family and even though certainly some dogs will be added up sooner or later, nothing will change on that. The doggies are contented and happy because we devote ourselves to them as much as possible.
When a few years ago I wanted to decide what dog breed I would start to breed, the decision was the Jack Russell Terier. The new breed should meet a few requirements. It should be a small, lively and funny dog suitable for agility and dogdancing. And then I wanted a hunting dog, which I could use for hunting. I decided for this amazing race, which meets all these criteria more than generously. And it is certainly not meant as boasting about "my own" breed. Just I have managed to choose the breed well. That is my only merit.

The Jack Russell Terrier is a small dog with a lot of cheerful energy but he definitely likes to relax on a couch too. And if I work I do not know about them for some hours. Only when the walk hour is approaching they come to remind themselves. It is certainly very appropriate to do some activity with the dog so that he releases his energy and engages his head. Then he is happy and you too. But it holds good for of every breed, only for this one a bit more. According to my experience, the Jack Russell Terrier likes other dogs and definitely does not seek useless conflicts. He is extremely happy when he is praised. If he is managed well then it is a free-and-easy and happy dog.

Look what JRT bitches and males we have and what puppies we have bred. Or you can see how we get on the exhibitions and during the hunting trials. We have focused on the Jack Russells only coming from the Australian kennels because the Australians have devoted themselves to the breeding of the Jack Russell Terrier for 60 years and for this reason their breeding is at a completely different level than the European breeding. The Australian breeding is identified by the elegant body proportions but also very markedly by the above mentioned strifeless nature. The Australians have also merit in the creation of the jack russell terrier's standard and in the official recognition of this breed.

Zuzana Slanska
Stitary - Sumna - Znojmo (Zneim) District, Czech Republic

At the beginning of the page