JACK RUSSELL TERRIER
ARMONIA CANINA FCI KENNEL
We have for sale a young female one year old (born in July 2020) - IBBI
Ibbi has full set of teeth and she is recognized as a bitch but she is small - the height of 25 cm and therefore she is not very suitable for either breeding nor dogshows, so we sell her as a pet dog. But she is a cute female who will forever seem to be a grown up puppy. Her parents are Rockefeller Victory Garden and Zavodnoy Apelsin Dakota Rose, both are tested for health and above all her father was also successful at the famous English dogshow Cruft. Her mother can be seen here. The female is obviously microchipped, vaccinated and wormed continuously, she has a European passport, full FCI pedigree and some dogshow judgements. We sell her at a lower price than a puppy - € 1,200.

Then we have for sale 2 very nice six-month-old males
- LIMONCELLO and LAMPONE
(for now you can give them a name what you want)
| | |
| --- | --- |
| Limoncello | Lampone |
| | |
Limoncello and Lampone are brothers, they both already have full dentition (except 2x M3) and a correct bite
Father: Ho vinto per Armonia Canina (a son of the famous and very successful dog all over the world Original Master's Voice Lovesong Rnb)
Mother: Zavodnoy Apelsin Dakota Rose (import from Russia)
Here you can see their family tree
Both parents are health tested (BAER, eyes - negative, patella 0/0, by parentage: LOA/SCA/PLL/PRCD clear)
The males have full FCI pedigree, microchip, European passport, full vaccination, incl. rabies, continuous deworming

The whole litter was really beautiful, I keep a female because at the moment I need her more than one male in the breeding. Limoncello is a beautiful well built muscular dog with a broken coat. He looks a lot like his father but he is more muscular. Lampone is also muscular but he will be smaller (26 cm at 6 months) and has a rough coat. Both should be suitable for hunting with proper guidance. But it is not necessity. Their price is 1,500 Euro, which is very low compared to their origin, complete dentition and their beauty.

And as the last we have for sale 8 beautiful puppies - males

Father: Guru del Oncetartessos (import from Spain)
Mother: Chicca di Armonia Canina (bred from our dogs)
Both parents are health tested
The puppies were born on August 5th, so they will be soon available. They will have the full FCI pedigree, microchip, European passport, vaccination and are continuously wormed. One male is broken coated, the others rough coated. We sell them for 1,300 euros.


I apologize for the long non-updating of the website, which was mainly caused by the fact that we hastily (but permanently) moved to an old house, where there is still a lot of work to do and it will definitely take some time before everything is at least a bit normal... It was a coincidence that we found ourselves in Moravia, but I'm very happy because there are very nice people here!
In addition, we went to one show after another (and the dogs are doing better and better at shows!), which is of course also very time-consuming. The number of dogs has gradually increased too (we imported some very nice JRT from different countries) and we have had several litters in the meantime. In short, I am still run off my feet and if one ceases adding new information to the website for a while, it will take much more time to put it back into some acceptable up-to-date form. And that's what I have to do now. For now, the current photos are on Facebook, if you have it. And if not, ask fot the information and I will send it to you. And I promise that I will gradually bite through the website and will update it, and then I will really try to keep it updated.


Welcome in the ARMONIA CANINA kennel's website - Stitary - Znojmo (Zneim) District - Czech Republic. The name is from Italian and it means "CANINE HARMONY". Originally it was meant as a harmonious life of the dogs in the pack and in the family but it is true that it can be applied also to the harmonious lines of these beautiful dogs Jack Russell Terrier.

We are a small kennel and we have a couple of dogs who live together in a pack, along with our family and even though certainly some dogs will be added up sooner or later, nothing will change on that. The doggies are contented and happy because we devote ourselves to them as much as possible.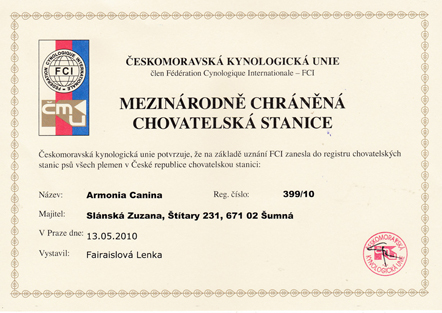 When a few years ago I wanted to decide what dog breed I would start to breed, the decision was the Jack Russell Terier. The new breed should meet a few requirements. It should be a small, lively and funny dog suitable for agility and dogdancing. And then I wanted a hunting dog, which I could use for hunting. I decided for this amazing race, which meets all these criteria more than generously. And it is certainly not meant as boasting about "my own" breed. Just I have managed to choose the breed well. That is my only merit.

The Jack Russell Terrier is a small dog with a lot of cheerful energy but he definitely likes to relax on a couch too. And if I work I do not know about them for some hours. Only when the walk hour is approaching they come to remind themselves. It is certainly very appropriate to do some activity with the dog so that he releases his energy and engages his head. Then he is happy and you too. But it holds good for of every breed, only for this one a bit more. According to my experience, the Jack Russell Terrier likes other dogs and definitely does not seek useless conflicts. He is extremely happy when he is praised. If he is managed well then it is a free-and-easy and happy dog.

Look what JRT bitches and males we have and what puppies we have bred. Or you can see how we get on the exhibitions and during the hunting trials. We have focused on the Jack Russells only coming from the Australian kennels because the Australians have devoted themselves to the breeding of the Jack Russell Terrier for 60 years and for this reason their breeding is at a completely different level than the European breeding. The Australian breeding is identified by the elegant body proportions but also very markedly by the above mentioned strifeless nature. The Australians have also merit in the creation of the jack russell terrier's standard and in the official recognition of this breed.

Zuzana Slanska
Stitary - Sumna - Znojmo (Zneim) District, Czech Republic

At the beginning of the page