ARMONIA CANINA FCI
JACK RUSSELL TERIER
LITTERS - PUPPIES
Rough, broken and smooth coated
Of the Top Quality Australian Bloodlines
G LITTER
The puppies were born on December 3, 2017
2 males, 1 female
The last available very well built male Gigi di Armonia Canina
with excellent body proportions, a slightly broken/smooth hair
The puppies are of the following coupling:
Father: BJ-Merlin Happy Florén

Mother: Dolcenera Armonia Canina

Born on February 28, 2010
Min. 87,5 % of the Australian origin
A strong skeleton, dark pigment, an excellente front angulation, an excellent front chest, a firm and right back, an excellent top line, an excellent tail, excellent hair
Hunting and other trials: Hunting Endowment Trial - award II, Trial in a fox hole, International trailing trial of the grade 1 - Fpr1, grade 2 - Fpr2; Dog maneuverability test ZOP, Basic dog maneuverability test ZZO, Basic minimum of small breeds ZMMP, International dog maneuverability test IPO-BH
Medical examinations: patella luxation - 0/0, DNA-Profil
Height 27 cm
Full dentition, incl. 2x M3
Broken coat
Born on March 15th, 2014
100% Australian origin (her grandfather is the World Winner)
The Best Puppy of the Konopiste Special Dog Show of JRT and PRT, excellent, CCJ
An excellent breeding type, dark eyes, an excellent head, an excellent ear, a proportional neck, an excellent top line and back, an excellent breast, excellent spacious movement, correct skeleton and size, excellent hair - according to the opinions of the judges
She is and she will be prepared for different hunting trials
Medical examinations: eyes PLL - negative, patella - 0/0, canine herpes virus negative
Height 26 cm
A complete dentition, incl. 2x M3
Rough coat


Sire's pedigree
Dam's pedigree
The puppies are min. 93,75 % of the Australian origin
There are the following legendary dogs:
Twice DOUBLE WORLD WINNER INVERBRAE JOHN OF GAUNT
WORLD WINNER KANIX SPEED WAGON
MULTI CHAMPION TOUCHSTAR MILANO
BJORSATTER'S PEER GYNT
ERA v.h. INSULA MARIS
High quality hunting dogs Mahkoolma and Myrmidon
in the puppies' pedigree.

The best of the Australian bloodlines.


The ancestors of the puppies come from leading Australian bloodlines.
If you click at any picture of this page (and also of this website), you will see the picture in the larger size or possibly other information.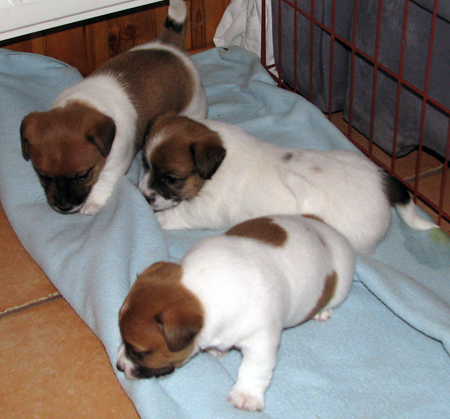 GENEALOGY OF THE PUPPIES in the database
Gioia Armonia Canina
(gioia = a joy)
- A female
SOLD IN THE CZECH REPUBLIC
for hunting and breeding


The first attempts of the exhibition position but Gioia enjoyed it very much, unlike the males.
She is a very skilful and fearless female.
My eyes have just open... well, where am I?

Golem Armonia Canina
- A male
HE REMAINS IN ARMONIA CANINA

Gigi di Armonia Canina
- A male
AVAILABLE
A very well built male with excellent body proportions, a slightly broken/smooth hair
Very suitable for hunting, quick-witted and very attentive, he barks on unknown stimuli - see the video, he is very interested in the smells of the wild game
Golem does not know what to do first...






Gigi felt down to his backside,
he is cutting a caper and tastes a cabinet...



My eyes have just open... hmm, they say
that is my home... really?... hmm...




My eyes have just open...
Hey, where is my mum??




Gigi is listening what strange noise is there... he is very attentive...
Some videos of the puppies:
Gigi di Armonia Canina: "What is that strange thing in the door? That was not there before!" It continues...
Gigi: "Ah, that is that cover that was inside..."
Gigi and Golem are playing with their friend Gurù.
Gigi is biting a rest of a tree stump...
The puppies and Gurù with a roe deer's foot.
The puppies and Gurù are exploring and sniffing at a hare...
The puppies are playing.
The puppies are outside for the first time - together with Gurù.
Gioia together with Betty Boop with a squeez toy and with her supervising mum...
All the puppies together with Betty Boop.. .she drank their water up...
Gigi with a toy, sometimes Betty Boop is running through and going away, and Daky is pawing behind the door and wants to go inside to play with toys...
A small squabble between Gioia and Gigi...
Gioia follows her mistress... hem, how is it possible I cannot find her under the couch?? ... Hem, hem, I have to take the upper way...
Gigi and Golem are fighting...
What a peace! Oh, our mistress cooks something good...
Golem with a squeez toy, some fights, etc...

You can find links to some other videos of the puppy at the end of this page.
Weight gain of the puppies:
| | | | | | |
| --- | --- | --- | --- | --- | --- |
| | 03.12. | 17.12. | 31.12. | 14.01. | 28.01. |
| Golem Armonia Canina | 240 g | 720 g | 1300 g | 1900 g | 2200 g |
| Gigi di Armonia Canina | 180 g | 680 g | 1200 g | 1700 g | 2100 g |
| Gioia Armonia Canina | 200 g | 700 g | 1300 g | 1700 g | 2200 g |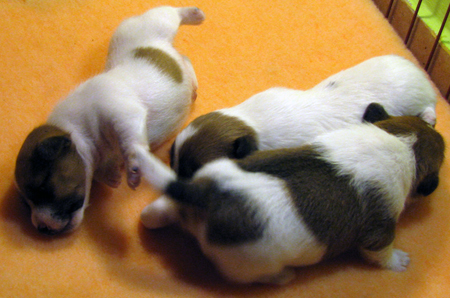 At the moment of the puppies' delivery they are chipped, wormed and vaccinated and registered in the International Dog Registry. You will receive a European veterinary passport and an export pedigree completely filled in (with all ancestors). In case of your interest I will let you know other ascendants of your puppy, who are not mentioned in the pedigree any more.
The puppies are suitable for shows, breeding but also for training - whether for agility, dogdancing, dogfrisbee, flyball or for hunting training.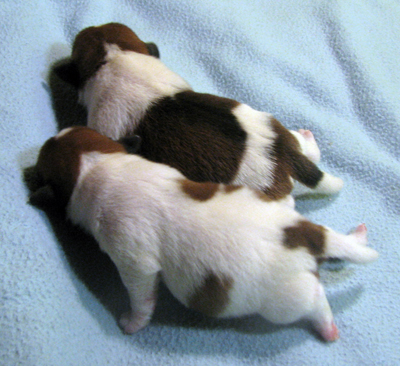 You can book a puppy by Email:
Email: jrt@jack-russell-terrier-jrt.cz

Or you can ask by phone:
Phone: 00420 603 164 831

(I understand English very well, especially when it is written.)

You can book a high-quality puppy whose ancestors are the leading Australian blood lines or you can just inform tentatively. You can also read something about this fantastic race: or in its standard or what induced me to breed Jacks and how we live with our Jack Russells.
Other videos of the puppies. Have good fun!!
Betty Boop is excited by the puppies...probably she would be a good mom...
and she would already love to play catch with them...

Our mistress says it's a new bed...but not at all! This is a new super toy!
Another small fight...
We are very busy!
Golem is playing with a toy...
Phew! What hard work!
A small fight...measuring power is useful at this age...
HELP!! HELP!! I am so fat that I am unable to turn on my stomach!!
We have to taste each other...

The other litters:

K litter
G litter
F litter
E litter
D litter
C litter
B litter
A litter

At the beginning of the page