ARMONIA CANINA FCI - JACK RUSSELL TERIER
100% of the Top Quality Australian Bloodlines
PUPPIES - LITTERS
B LITTER - born on January 12, 2012

All the puppies are in their new homes
The puppies were of the following coupling:
Father: Honey Boy Dominik

Mother: Penny Marry/JR Rags Puma

born on June 18, 2010
100% Australian origin (his grandfather is the World Winner)
BOB, 2x BOJ, CACIB, 2x CAJC, 1x CAC
medical examinations: eyes - negative, patella - 0/0
height 27 cm
full dentition
born on March 3, 2009
100% Australian origin (her father is the World Winner)
German Champion - KfT, German Champion - VDH, Czech Champion
KfT Junior Champion - Germany, German Junior Champion (VDH)
Three times BOB, twice Junior BOB, twice CACIB, twice res. CACIB, Landessieger, Landesjugendsieger (Germany), CAC CMKU (CZ), 2x Czech republic National Winner, many CACs
The best KCHT Terrier in 2011 in the category of the HUNTING PERFORMANCE, hound trial for hunting wild boars - award II, blood-hound hunting trial - award III, the 1st place in a fox hole, nose 4, voicefulness 4
medical examinations: eyes - negative, patella - 0/0
height 26.5 cm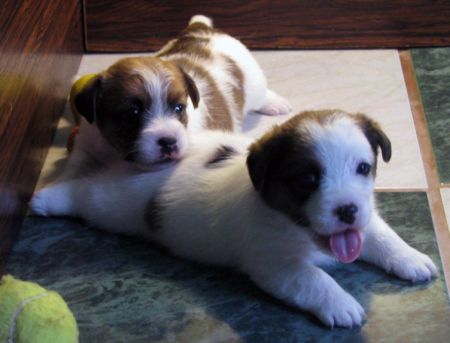 The genes of the famous
DOUBLE WORLD WINNER
INVERBRAE JOHN OF GAUNT will interdigitate twice in the puppies.
All the ancestors of the puppies come from leading Australian bloodlines.
PUPPIES' PEDIGREE
If you click at any picture of this page (and also of this website), you will see the picture in the larger size or possibly other information.
Baldassare Armonia Canina
- A male
SOLD IN SWITZERLAND

Beata Vergine Armonia Canina
- A female
SOLD IN BRASIL

Beginning of the hunting training...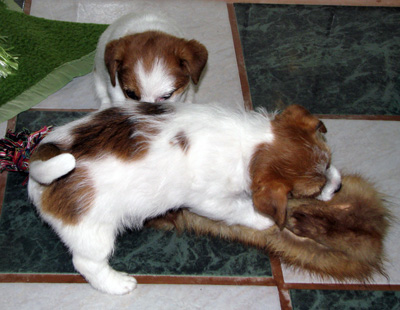 Other videos of the puppies:
The puppies with the hareskin...
... and again...
Relax...
Bea hard overcomes a huge obstacle...
Mutual "eating" each other in the crate...
Bea has discovered water and somehow she cannot get enough...
I want it too...
And what is this? Well, my mother likes it, then I will try it too...

You can find links to some other videos of the puppies at the end of this page.
Weight gain of the puppies:
| | | | | | |
| --- | --- | --- | --- | --- | --- |
| | 01.09. | 01.23. | 02.06. | 02.20. | 03.05. |
| Baldassare Armonia Canina | 180 g | 600 g | 900 g | 1500 g | 1900 g |
| Beata Vergine Armonia Canina | 160 g | 560 g | 1000 g | 1600 g | 2100 g |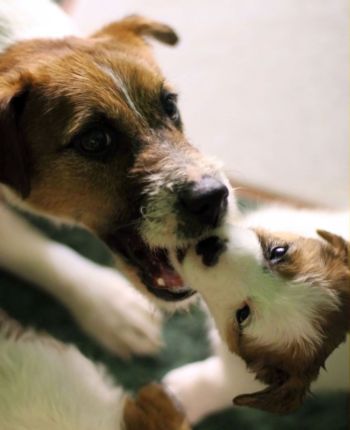 The puppies are chipped, wormed and vaccinated and registered in the International Dog Registry. You receive a European veterinary passport and an export pedigree completely filled in (with all ancestors). In case of your interest I will let you know other ascendants of your puppy, who are not mentioned in the pedigree any more.
The puppies are suitable for shows, breeding but also for training - whether for agility, dogdancing, dogfrisbee, flyball or for hunting training.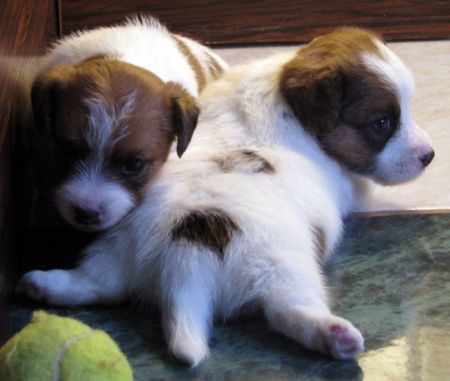 You can book a puppy by Email:
Email: jrt@jack-russell-terrier-jrt.cz

Or you can ask by phone:
Phone: 00420 603 164 831

(I understand English very well, especially when it is written.)

You can book a high-quality puppy whose all ancestors are the leading Australian blood lines or you can just inform tentatively. You can also read something about this fantastic race: or in its standard or what induced me to breed Jacks and how we live with our Jack Russells.
Other puppies videos. Have good fun!!

Give me too!
How is it possible that I cannot pick up the ball?
A bun is good but the tail of my brother too...
Although we can hardly move as we are fat, we have to fill ourselves up again and again...
Should I manage to roll over in the right position? ... Ah, finally I have managed and I can eat again...
The other litters:

K litter
G litter
F litter
E litter
D litter
C litter
B litter
A litter

At the beginning of the page