JACK RUSSELL TERRIER
ARMONIA CANINA FCI KENNEL
From January 1st, 2014 the conditions for the reproduction of the terrier in the Czech republic were very radically changed. Making a male/female usable for reproduction is only possible in the Club Dog Shows. The consequence is that there is really a great competition in all Club Dog Shows and the dogs are judged VERY severely.
On December 4, 2015 a Jack Russell Terrier female was born - Eufrosina Armonia Canina.
A beautiful female of the show quality - broken coated. Her strong points are blacks eyes, a correct body structure, incl. a strong and straight tail and wide position of the rear legs.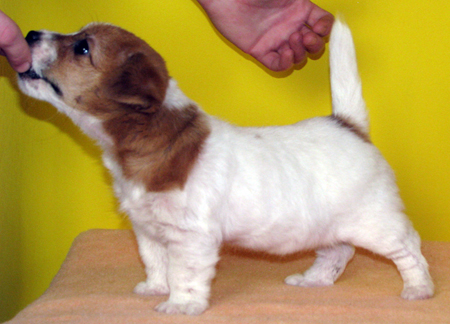 Both parents are in our kennel and after the import of the male from Italy they have grown together. Her father is Southjack Ghiaccio Bollente and her mother is Dolcenera Armonia Canina. They are very similar to each other.
September 20, 2015 - Trial in a fox hole
Southjack Ghiaccio Bollente - 78 points, 8 sec, 3rd place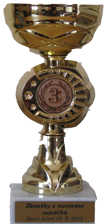 May 9, 2015 - Hlucin Silesia Terrier Club Dog Show
Judge: Gabriela Štursová

Southjack Ghiaccio Bollente - Intermediate class - Excellent 1, CC
Dolcenera Armonia Canina - Young class - Excellent 1, CCJ - usable for reproduction from this show
A beautiful dog show in a beautiful place. At least it partly compensated that we have to go to regional dog shows over the whole country due to making a dog usable for the reproduction, and also the craziness around Unicov when a half of the main roads leading to Unicov was completely closed. Who allowed this really deserves a gong... Fortunately, we had sufficient slack and so we arrived in time despite this horror. But I was really nervous!
Dolce and Ghiaccio were doing nicely at the show and both won their classes. Ghiaccio was unfortunately the second in the struggle for BOB but it is truth that the first male was more mature and therefore stronger, more developed and more perfect. And hopefully it will be truth what the judge said that Ghiaccio will win many dog shows in the future...
After the exhibition a raffle took place and we won a voucher for collars and leashes for 500 CZK. By coincidence, the company owners were the owners of a female of Jack Russell terrier and she was in the class after us. I chose a nice exhibition leash and 5 collars, which certainly will come in useful...
The photos from the dog show do not remind the show very much... but the dogs really enjoyed it!
| | |
| --- | --- |
| | |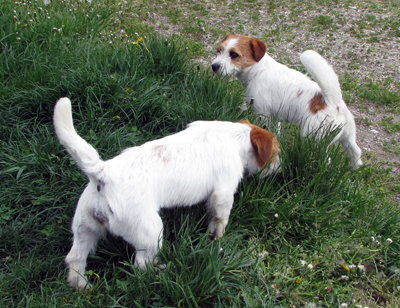 Dolcenera Armonia Canina
Southjack Ghiaccio Bollente
March 7, 2015 - Ceske Budejovice Terrier Club Dog Show
(64 JRT)
Judge: Iveta Nováková

Southjack Ghiaccio Bollente - Junior class - Excellent 3 - from this Dog Show usable for reproduction
Dolcenera Armonia Canina - Junior class - Very good
Southjack Ghiaccio Bollente
Other dog shows, hunting trials and different events of our jack russells

2018

2017

2016

2015

2014

2013

2012

2011

2010

At the beginning of the page