JACK RUSSELL TERRIER
ARMONIA CANINA FCI KENNEL
Let there be a lot of presents under your tree,
and there is a happy weekday in each of them.
Merry Christmas and Happy New Year
wish you the Armonia Canina kennel!
Our pack has grown by 2 beautiful females from abroad
Thanks to them, we have fun at home and we are also very happy that they have both full dentition, incl. twice M3. Each of them is quite different but it is useful for the breeding.
And here there are some pictures and videos from common playing.

Boopy is retrieving very well, Daky prefers to keep the prey...
Maybe it will be better in some time...
Other videos:
Daky is stronger so that Boopy is giving up...
Usually Daky wins but now Boopy managed to win twice...
Daky is demolishing the prey and Boopy is looking for the treats...
On December 3, 2017 puppies of the Jack Russell Terrier were born - 2 males and 1 female.

On May 24, 2017 a male Fragolino Armonia Canina
flew in his new home in the USA.
A skilful rough coated male of the show quality with full dentition flew to his new home in the United States where several Jack Russell Terrier girls have soon arrived, so he is surely in his harem in his element.

Fragolino at the age of 8 months after his arrival to the other end of the world.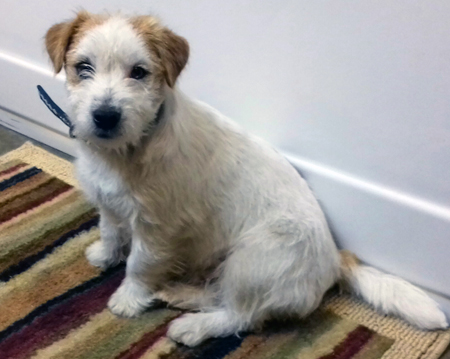 Fragolino has already settled in the USA and provokes his harem...



Other dog shows, hunting trials and different events of our jack russells

2018

2017

2016

2015

2014

2013

2012

2011

2010

At the beginning of the page
Breeding on the top Australian lines:
Inverbrae
Burbunya
JRWessex
Baylock
Rosetta
Malung
Myrmidon